Wear Jewelry That Makes You Glow Inside And Out On Your Wedding Day
June 17th, 2021
You said "yes" to the dress. Congrats! Now it's time to make your wedding gown truly your own by selecting stunning jewelry to pair with it. For a gown and accessories match made in heaven, you should follow your personal taste and follow Neugebauer's Guide to Wedding Jewelry. Let's get started!
The Refined Boat Neck
The boat neck design features a wide neckline that runs nearly shoulder to shoulder across the collarbone. Originating from designs made for sailors, this neckline can now be seen across clothing styles, and we have fallen in love with the look of gorgeous, sweeping boat neck wedding gowns. This neckline brings attention to your facial features, so wear jewelry that does the same. Think simple solitaire necklaces or colorful studs like tanzanite, emerald, sapphire, and citrine.
Vibrant stud earrings are perfect for the boat neck gown. We recommend these regal and honestly irresistible Allison Kaufman stud earrings. The morganite center stones glisten in serene pink gold. A halo of white diamonds enchants while the milgrain beading framing each stone gives the pair a distinguished air.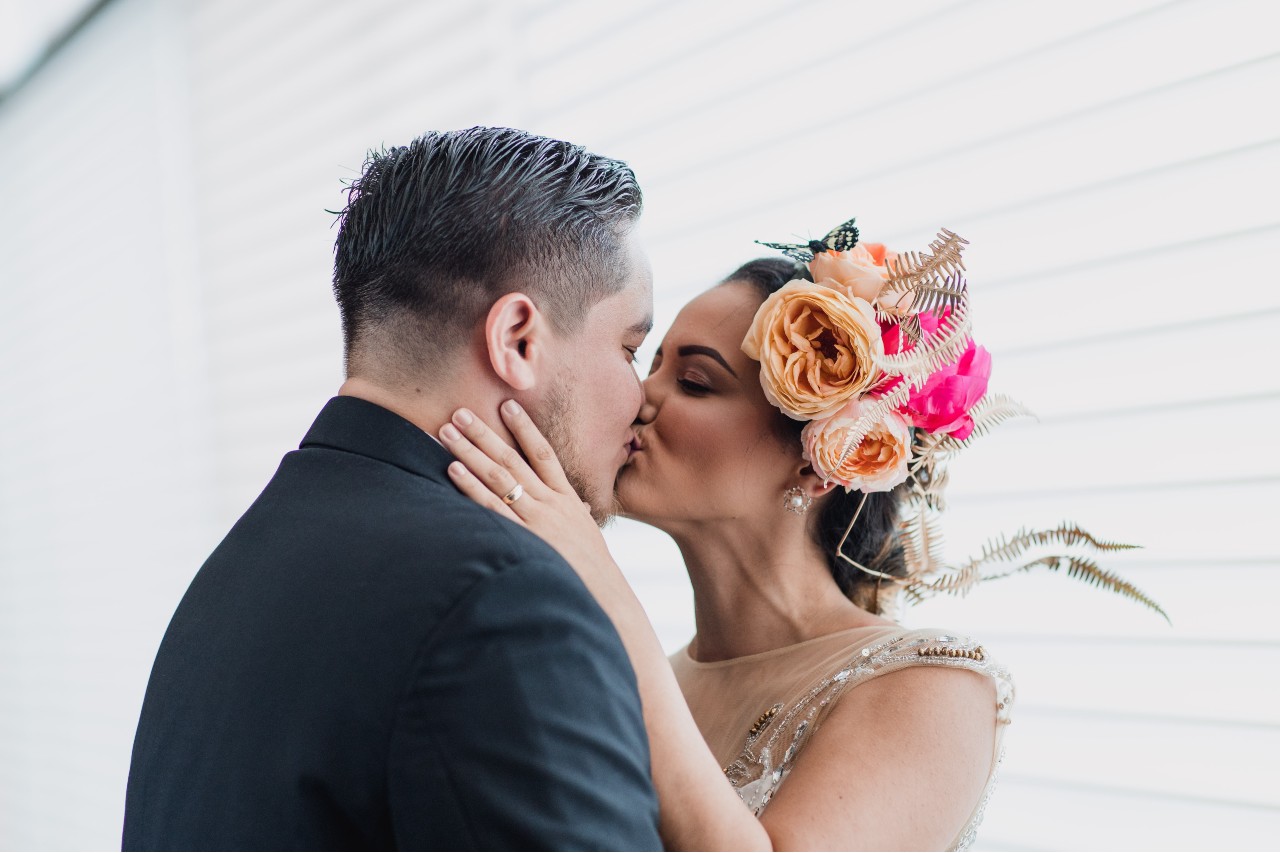 The Polished High-Neck
The high-neck wedding gown begins above the collarbone at the base of your neck. This gown design is made to accentuate your chest, so you don't need to worry about adding wedding jewelry there. Keep your accessorizing focus upward with earrings. A set of studs or diamond drop earrings with graceful movement will do!
Consider diamond drop earrings from Simon G. to instantly elevate your look. Their glittering, shapely, multi-stone design is incomparable and distinctly feminine. If you are looking to incorporate a soft color, we recommend these darling aquamarine halo studs. These earrings bring the same beauty and count as "something blue" if you want to follow the tradition.
The Romantic Off-The-Shoulder
The off-the-shoulder style compliments the arm and chest areas more so than the neckline. The delicate sleeves drape across your outer arms, revealing your shoulders and collarbone. It's a wonderfully flirty style that leaves room for you to accessorize. Consider a pearl necklace, or perhaps a bold diamond-heavy pendant to complement the style as a shimmering focal point.
When it comes to diamond necklaces that make a statement, we recommend starting with Simon G. Take in the beauty of this regal teardrop diamond necklace. The glittering round diamonds are set in a mosaic pattern within the pendant surrounded by a halo of even more stones. For a more delicate option, consider an open scroll pendant necklace. This luxe look is sure to have all eyes on you.
The Exquisite One-Shoulder
The one-shoulder gown design is dramatic, with the material wrapped around one shoulder and revealing the other. This neckline draws attention to itself with flair, so you can leave jewelry like necklaces in your valet. They just don't blend. Instead, select an understated pair of earrings if your gown is detailed, but if your dress is satin and streamlined, consider a pair of cascading gemstone drop earrings.
We recommend these majestic sapphire drop earrings from Fana. The white gold and white diamonds are refined, while the blue sapphire is bold, pairing well with your showstopping, one-shoulder gown.
The Sensational V-Neck
The v-neck wedding dress creates a beautiful canvas to adorn your chest with the right piece of jewelry. The dynamic shape of the dress is captivating, while the décolletage reveal is bewitching. Here, thin and dramatic necklaces are the way to go! Pick a necklace style that accentuates the lines of the plunging neckline.
First, we have a beautiful diamond-tiered necklace with six graduating stones in a row connected by a razor-thin bar. The sparkle is irresistible in this modern iteration. Call back to eras past with a swirling nature-inspired pendant. The milgrain beading gives the necklace texture that adds to its distinctive flair.
Looking for Wedding Jewelry in South Dakota'
Find all the styles mentioned above and even more enchanting wedding jewelry at Neugebauer's Jewelry. Shop our expansive inventory online or in-store. Our passionate staff can help you find any piece you need to make your wedding day a fairytale.

For over 75 years, we have helped couples experience amazing moments and create beautiful memories. Let us do the same for you. For exceptional service and selection, shop Neugebauer's Jewelry in Black Hills, South Dakota.